CAMRI Alumna signs contract for new book on Fairouz and the Arab Diaspora
Dr Dima Issa, a former Doctoral Researcher at the Communication and Media Research Institute has signed a contract with Bloomsbury for a new book on Fairouz and the Arab Diaspora: Music and Identity in the UK and Qatar.
Drifting through generations of Arab listeners across the globe, the world-renowned singer Fairouz is an inherited artist and icon harbouring timeless appeal. By way of ethnographic research in London, England and Doha, Qatar, this book explores the ways in which music can shape Arab diasporic experience amidst a dynamic backdrop of revolutions, forced migrations and changing political landscapes. Discussing Fairouz was a proxy toward discussing diasporic life, shedding light on notions such as Arabness and authenticity, presence and absence, naturalization, and citizenship, and iltizam (commitment). It is through these trajectories, members of the Arab diaspora are able to identify and position themselves in space and time, and it is the music of Fairouz that provides the spectrum by which they are able to reflect, to define and to differentiate.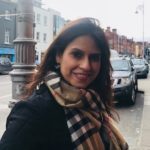 Dima Issa is now a Senior Lecturer of Mass Media and Communication at the University of Balamand in Lebanon. Alongside her PhD from CAMRI, the University of Westminster, she also holds an MSc from the London School of Economics in Global Media and Communications and an MA from the University of Southern California in Global Communications. Her research has primarily focused on Arab diaspora and media consumption, looking at ways in which identity is constructed and reconstructed through space and time. In addition, her interests include gender and representation, popular culture and audience studies, new media and technologies and social networking. Before academia, Dima worked in the corporate sector in media relations, publications and website management as well as in broadcast journalism. She has lived in Canada, Qatar, London and California.
The book is due to be published by Bloomsbury in 2022.