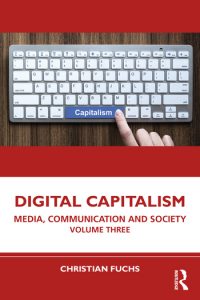 This third volume in Christian Fuchs's Media, Communication and Society book series illuminates what it means to live in an age of digital capitalism, analysing its various aspects, and engaging with a variety of critical thinkers whose theories and approaches enable a critical understanding of digital capitalism for media and communication.
Each chapter focuses on a particular dimension of digital capitalism or a critical theorist whose work helps us to illuminate how digital capitalism works. Subjects covered include: digital positivism; administrative big data analytics; the role and relations of patriarchy, slavery, and racism in the context of digital labour; digital alienation; the role of social media in the capitalist crisis; the relationship between imperialism and digital labour; alternatives such as trade unions and class struggles in the digital age; platform co-operatives; digital commons; and public service Internet platforms. It also considers specific examples, including the digital labour of Foxconn and Pegatron workers, software engineers at Google, and online freelancers, as well as considering the political economy of targeted-advertising-based Internet platforms such as Facebook, Google, YouTube, and Instagram.
Digital Capitalism illuminates how a digital capitalist society's economy, politics, and culture work and interact, making it essential reading for both students and researchers in media, culture, and communication studies, as well as related disciplines.
"Drawing on his unrivalled command of the key architects of critical theory, from Marx and Engels to Dallas Smythe, by way of Georg Lukács, Theodor W. Adorno and Henri Lefebvre, Christian Fuchs demonstrates their continuing indispensability to understanding how digital technologies and data analytics are reshaping the exercise of power and exploitation within contemporary capitalism and transforming lives, labour and life chances across the globe. Comprehensive, combative, accessible and essential. A book to learn from and argue with." – Graham Murdock, Emeritus Professor of Culture and Economy, Loughborough University
"Christian Fuchs shows us once again why he is today's leading scholar of what happens when Marxism meets the digital. Digital Capitalism offers a wide range of essential critical lenses for examining the most pressing concerns of the contemporary economy." – Kylie Jarrett, Associate Professor, Maynooth University
.