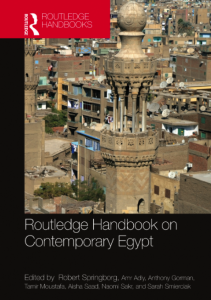 Investigating key features of contemporary Egypt, this volume includes Egypt's modern history, politics, economics, the legal system, environment, and its media and modes of cultural expression. It examines Egypt's capacities to meet developmental challenges, ranging from responding to globalization and regional competition to generating sufficient economic growth and political inclusion to accommodate the interests and demands of a rapidly growing population.
The macrohistory of Egypt is complemented by the microhistories of specific institutions and processes that constitute separate sections in this handbook. The chapters revolve around political economy: it is shaped by the people and their abilities, political and legal institutions, organization of the economy, natural and built environments, and culture and communication. Politics has been overwhelmingly authoritarian and coercive since the military seized power in 1952; consequently, the contributions address both the causes and consequences of unbalanced civil–military relations, military rule, and persisting authoritarianism in the political society.
This multidisciplinary handbook serves a dual purpose of introducing readers to Egypt's history and contemporary political economy and as a comprehensive key resource for postgraduate students and academics interested in modern Egypt.