Jun
27
Thu
Regulating Digital Media in the Global South: What Are the Challenges? @ University of Westminster
Jun 27 – Jun 28 all-day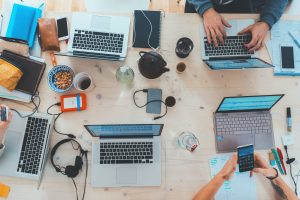 The last 20 years have seen an exponential increase in the production and uses of digital media content by a large and important young political generation. These digital media platforms have the potential to create positive social, cultural and economic change. However, the centralised structure of these platforms often leads to tax evasion and disregard for local laws, with countries in the global South being particularly susceptible to exploitation by such platforms which exploit long-standing colonial power structures to enhance their profits and obscure transparency.  Media regulatory laws in countries of the global South have found it difficult to contend with this new digital colonialism, and often lack the institutional capacities and frameworks for effective regulation of digital media content.
This two-day international conference, organised by the University of Westminster's Communication and Media Research Institute (CAMRI), brings together media academics, media regulators, policy makers and civil society groups to discuss and debate the key challenges facing countries of the global South in regulating digital media in the age of the Internet. The conference will focus on how media regulators, civil society groups, and other public stakeholders can come together to tackle the complexities of digitalization.
The conference will include keynotes by media regulators and academics, plenaries, round tables and workshops led by experts in media regulation.
Call For Papers
The conference invites papers/ interventions that tackle the following key questions:
What are the main challenges facing global South media regulators in the digital age?
How can a broader alliance from countries of the global South lead to a stronger regulation of digital media content?
What unique South-to-South perspectives and contributions to digital media regulation are there?
What are the challenges for Data/AI governance from a Global South perspective?
What measures have been taken by media regulators in the global South to tackle the problem of misinformation?
What research methods are relied upon to examine digital media use in countries of the global South and what ethical issues are raised for researchers and media regulators?
How does media activism in the global South tackle the question of media regulation?
How can we regulate digital media content without stifling creativity and freedom of expression?
What new platforms are emerging from the global South, and how might these challenge present forms of regulation in both the South and the North?
Conference fees and registration
This two-day conference, taking place on 27-28th June 2024, will consist of keynotes from the global South, plenaries and parallel workshops. The fee for registration for all participants, including presenters, will be £150, with a concessionary rate of £50 for students, to cover all conference documentation, refreshments and administration costs.
Registration will open in April 2024.
Deadline for abstracts
The deadline for abstracts is 7th of February 2024. Successful applicants will be notified early in March 2024. Abstracts should be 300 words. They must include the presenter's name, affiliation, and email and postal addresses, together with the title of the paper and a 150-word biographical note on the presenter. Please send all these items together in a single Word file, not as pdf, and entitle the file and message with 'CAMRI 2024' followed by your surname. Send the file by email to Professor Tarik Sabry: sabryt@westminster.ac.uk and Dr Doug Specht: d.specht@westminster.ac.uk
Participants fund their own travel and accommodation expenses.
Publication
There will be various openings for publication of selected conference papers, which will be discussed further after the conference.
Keynote Speakers
Professor viola milton, University of South Africa
Keynote: "Networking Relational Accountability?: towards relational, pluriversal approaches to digital media governance"
Professor Paola Ricaurte Quijano, TECNOLÓGICO DE MONTERREY, Mexico  
Keynote; "Algorithmic Governmentality: A Latin American Perspective." 
Professor Naomi Sakr, University of Westminster, UK
Keynote: "Who prevails? Resistance to Arab cybercrime laws amid global ambiguity on cybersecurity"
Professor Winston Mano, University of Westminster, UK
Workshop: Regulating Tech in Africa: Emerging Trends, Issues and Concerns
Dr Andrea Medrado, University of Westminster, UK
Workshop: "Applying Latin American Participatory Action Research (PAR) to Critical Data and AI Studies"
 Tim Davies, Connected by Data, UK 
Workshop: "Public voice and the governance of data and AI in the global south: exploring narratives and potential practice?"
Photo by Marvin Meyer on Unsplash