Jan
30
Wed
Digital Objects, Digital Subjects: Politics, Labour and Capitalism in the Age of Big Data – Book Launch @ Westminster Forum
Jan 30 @ 6:00 pm – 8:00 pm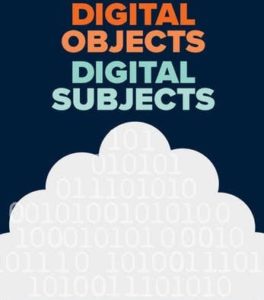 Are optimists or pessimist correct about the digital future?
Will we have new forms of community, sensing, distributed democracy, digital activism and responsive governance? Or networked exploitation, the surveillance society, technological domination and dehumanization? What is happening with Big Data capitalism in an age of unprecedented autonomous digital activity and how are current forms of technology and economic activity shaping notions of subjectivity and labour?
What are the best academic tools, approaches and theories that can assist in understanding the 'digital' of today and tomorrow?
Editors and contributors to a new open access book Digital Objects, Digital Subjects exploring all these controversial issues will discuss these and others arising at an informal roundtable with audience discussion. Confirmed participants include: David Chandler, Christian Fuchs, Joanna Boehnert, Robert Cowley, Paolo Gerbaudo, Anastasia Kavada. All welcome. Drinks and nibbles.
Digital Objects, Digital Subjects: Interdisciplinary Perspectives on Capitalism, Labour and Politics in the Age of Big Data will be published open access by the University of Westminster Press on the 30 January. Print copies to be available for purchase at the event.
Mar
21
Thu
Book Launch 'Peer to Peer. The Commons Manifesto' @ University of Westminster (Room UG05)
Mar 21 @ 5:00 pm – 7:00 pm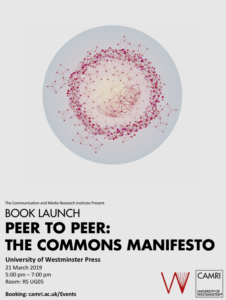 Michel Bauwens, Vasilis Kostakis & Alex Pazaitis (P2P Foundation) – Book Launch 'Peer to Peer. The Commons Manifesto' (University of Westminster Press)
Not since Marx identified the manufacturing plants of Manchester as the blueprint for the new capitalist society has there been a more profound transformation of the fundamentals of our social life. As capitalism faces a series of structural crises, a new social, political and economic dynamic is emerging: peer to peer.  What is peer to peer? Why is it essential for building a commons-centric future? How could this happen? These are the questions this seminar tries to answer.
Biography
Michel Bauwens is the Founder of the P2P Foundation and works in collaboration with a global group of researchers in the exploration of commons-based peer production, governance, and property.
Vasilis Kostakis is the Professor of P2P Governance at Tallinn University of Technology and Faculty Associate at Harvard University. He is also Visiting Professor at the Autonomous University of Barcelona. Vasilis is the founder of the P2P Lab and core member of the P2P Foundation.
Alex Pazaitis is a Core Member of the P2P Lab and a Junior Research Fellow at the Ragnar Nurkse Department, Tallinn University of Technology.