Apr
25
Thu
Democracy, the Digital and the Public Sphere @ University of Westminster
Apr 25 @ 1:00 pm – 7:30 pm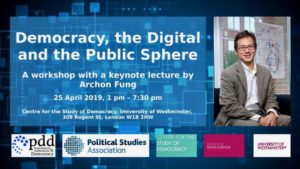 The workshop will encourage a theoretically diverse and interdisciplinary conversation on the impact of an increasingly digitally mediated public sphere has on contemporary democracy. To what extent is the digital undermining or enhancing democratic expectations? What interventions could improve the democratic character of the public sphere?
The event will be structured around two panels and a keynote lecture by Archon Fung on "Democracy, Design, and the Digital Public Sphere" (a paper he is co-authoring with Joshua Cohen). It will be hosted by Graham Smith.
About the speaker
Archon Fung is Winthrop Laflin McCormack Professor of Citizenship and Self-Government at the Harvard Kennedy School. His research explores policies, practices, and institutional designs that deepen the quality of democratic governance, in particular, public participation, deliberation, and transparency. He co-directs the Transparency Policy Project and leads democratic governance programs of the Ash Center for Democratic Governance and Innovation at the Kennedy School. His books include Full Disclosure: The Perils and Promise of Transparency (Cambridge University Press, with Mary Graham and David Weil) and Empowered Participation: Reinventing Urban Democracy (Princeton University Press).
How to book
A link for free ticket registration will be available soon.
Centre for the Study of Democracy
This event is a collaboration of the Centre for the Study of Democracy and the Participatory and Deliberative Democracy specialist group with friendly support of the Political Studies Association.
The Centre for the Study of Democracy, based in the School of Social Sciences, has an international reputation for research excellence, with research themes in: critical international theory; democratic theory and practice; gender and sexuality; governance, complexity and resilience; post-colonial politics development and emerging powers; security, violence and justice, and social and cultural lives.
May
8
Wed
British Chinese Women: An Interdisciplinary Workshop @ Kings College London
May 8 @ 9:30 am – 1:30 pm

This half-day workshop is centred on the subjectivities, experiences and representations of British Chinese women. In 1988, an inaugural conference of the National Federation of Chinese women was held in Birmingham and 40 years later, the topic of British Chinese women is seldom a part of public and academic discourse.
This event seeks to continue and extend those dialogues by showcasing current research on the British Chinese in relation to gender. To present a contemporary and evolving portrait of British Chinese women, papers will be drawn from interdisciplinary perspectives ranging from social history, motherhood, online identity and technology, domestic violence, material culture and participatory art methods.
This workshop welcomes those who are interested in the subject of British Chinese women, academics and cultural and arts practitioners alike, all welcome.
Chair: Professor Harriet Evans
Speakers
Denise Kwan, University of Westminster
Chen Yang, University of Westminster
Anushka Tay, London College of Fashion
Jiajia Yi, University of Exeter
Shuang Wu, King's College London / The University of Hong Kong
Sha Zhou, King's College, London
FAQs
How do I get the venue?
On your arrival of the Strand Campus, you will need to sign up first at the campus main entrance as a visitor. There will be at least one of the organizing team members helping you and directing your way to the Council Room. The workshop registration is between 9.30-10.00 and the workshop will start at 10.00. Please make sure you give yourself enough time to register before the workshop starts.
What can I bring into the event?
No food or drinks will be allowed to the venue. Refreshments will be provided during the tea break.
Do I have to bring my printed ticket to the event?
You don't need to print out your ticket. However, you will be asked to register your name and email address before the event starts.
Can I update my registration information?
The seats are limited. If you become unable to attend, please let us know as soon as possible.