Graham Meikle appointed as a 2019 National Teaching Fellow
Professor Graham Meikle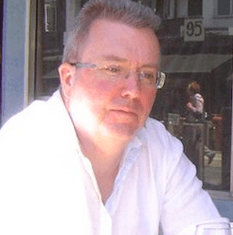 has been appointed as a National Teaching fellow by AdvanceHE in recognition of his outstanding contribution to teaching and learning. The National Teaching Fellowship Scheme showcases the outstanding impact of individuals and teams who teach or support learning in UK higher education, recognising their success and providing a platform to share the learning from their practice.
Meikle, a research professor who has published seven books, teaches core BA and MA modules every year. He sees important links between his teaching practice and research. Following the announcement of the award he stated that he sees his work as a professor as "all about how my teaching and research can be used to inform and enhance each other, and how this enables me to keep learning in order to better support my students".
He went to say that "This is one of the very best moments in my career, and I'm very grateful to 20 years of students at Westminster, Stirling, and Macquarie universities" and that "This award is also a win for all my colleagues in the Communication and Media Research Institute and for our shared ethos of research-led teaching."
Congratulations Graham from all of us at CAMRI and the University of Westminster.
Photo by Jason Leung on Unsplash