First Workshop of the 'Innovation in Public Service Media Policies' Research Network
The stakeholder-academe workshop for the AHRC-funded Research Network on 'Innovation in PSM Policies' (Grant Ref: AH/S012311) brought together key PSM stakeholders and leading international scholars to the University of Westminster, London, on 12 November 2019.
The purpose of this day-long workshop (the first of a series of four events to be run as part of the project) was to explore uncharted territories in PSM research, with the aim to map the complexities of today's digital ecosystem from the perspective of public service.
The workshop was convened by Alessandro D'Arma (U. of Westminster) and Minna Horowitz (U. of Helsinki) and saw the participation of several members from the Network's Steering Group, including and Jaspal Samra (Ofcom), Andrew Scadding (BBC) and Sally-Ann Wilson (Public Media Alliance).
The morning session was devoted to presentations from leading scholars reflecting on the key research priorities to advance the field and sharing their experience of collaborative multi-stakeholder research.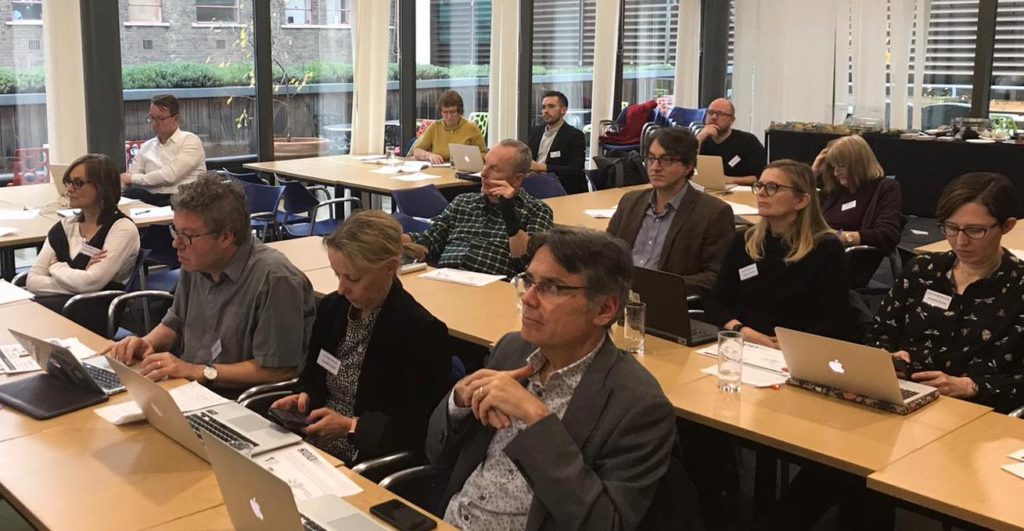 Presentations in the morning addressed the following topics: PSM and communications rights (Hannu Nieminen, U. of Helsinki), children's public service television and diversity (Jeanette Steemers, King's College), PSM and fair data usage (Kaarina Nikunen, Tampere U.), PSM and discoverability of content (Catherine Johnson, U. of Huddersfield), envisioning public service internet (Christian Fuchs, U. of Westminster) public service models as an alternative to the failing commercial press (Victor Pickard, U. of Pennsylvania), alternative online media under authoritarianism (Naomi Sakr, U. of Westminster), media capture of PSM (Marius Dragomir, Central European University), partnerships and PSM (Tim Raats, Vrije Universiteit Brussels) and multi-stakeholder collaborations in multiplatform production (Lizzie Jackson, London South Bank University).
The afternoon session featured key stakeholders sharing their research and policy agenda (PMA, Ofcom and BBC) and cutting-edge multi-stakeholder projects working on public media including the European Public Open Spaces (EPOS), Policy and Evidence Centre (PEC) for the Creative Industries, and the Public Media Stack Project.
A longer report on the workshop can be found here.
About 'InnoPSM': Funded by the Arts & Humanities Research Council (AHRC), the 'InnoPSM' Research Network is an international collaboration between the University of Westminster (Alessandro D'Arma) and the University of Helsinki (Minna Horowitz) with the support of a number of key PSM stakeholders sitting in the Steering Group, including the BBC, other PSM organisations (YLE of Finland, ORF of Austria), Ofcom, as well as the two largest global associations of public media organisations (the European Broadcasting Union-EBU and the Public Media Alliance-PMA). The main objectives of the Research Network are to facilitate exchange between academic experts and key PSM stakeholders and develop a research agenda across national and disciplinary boundaries with a view to advancing our thinking about innovative policy solutions and strategies to respond to the major digital challenges confronting PSM. You can find out more about the project and its future events here.