George Musgrave appointed to the Royal Musical Association's Music and Mental Health Committee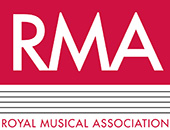 CAMRI researcher Dr. George Musgrave has been appointed as the Research Co-ordinator for the Royal Musical Association's (RMA) newly formed 'Music and Mental Health' Committee. The RMA was founded in 1847 and 
is the foremost society in the UK dedicated to the study of music. Its newest Study Group "
aims to raise awareness of the mental health crisis among musicians through the prism of music education, creation and performance". The group
was founded during the pandemic-related lockdowns as a reaction to the growing urgency of the mental health crisis in society and in particular within the education system. The group rapidly attracted supporters from various demographics, including representatives of MusicHE, staff and students at Music departments, composers and performers.
Speaking of his appointment, Dr. Musgrave said; "It's wonderful to see that the challenges around mental health in the music industry, which have come into even sharper focus over recent years, are being taken seriously both within the music industries and beyond. I hope that in my new position at the RMA I can bring together researchers working in this expanding field and continue driving the conversation forward".
Conferences and further events are expected to be announced later this year.