Doug Specht speaks to Publimetro about El Salvador's latest gang crack down.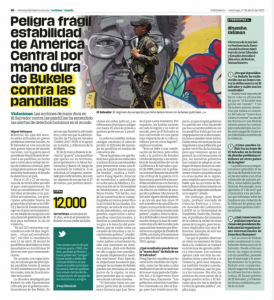 Following El Salvador's judicial assembly declaring a 30-day state of emergency in response to gang violence at the start of April, Doug Specht spoke to Mexico's Publimetro about how such actions might play-out.
In the interview Specht noted that while the near 10,000 arrests that have been made are unprecedented, "this is not the first time [president] Bukele has flexed his muscles and used questionable tactics to present himself as a strongman figure against gangs, indeed one of his campaign narratives was around bringing an end to gang activity". Specht raised concerns though as to this mass rounding up of people with "little evidence, oversight or constitutional safeguards", which he stated is being seen by many as "a further lurch to the right by the president who sells himself as bitcoin bro and political maverick".
Specht also went on to note how such actions had failed before, with "previous crack downs such as those enacted through the use of death squads by the likes of Calderón Sol, or the Super Mano Dura of Tony Saca all failed". "Ceasefires" he went on to say "have also been attempted by previous governments but have had little impact as no government has wanted to be seen to be publicly making pacts or agreements with the gangs – such pacts are unpopular with the electorate, even if they might be successful".
Specht also made reference to the partuclar circumstances of gang activity in El Salvador, reminding readers that it was "the US policy of deporting Southern Californian gang members to El Salvador from around 1989 onwards, coupled with crippling poverty throughout the 90's following the end of the civil war, that allowed gangs to establish such a strong hold over the country"
The full article in Spanish can be read in Publimetro, part of Metro World News which is distributed to 60 cities around the world.
Image from: Presidencia El Salvador, San Salvador, El Salvador, América Central.