Film Screening: #GoHomeGota, the Story Behind Sri Lanka's Hashtagged Protest Movement
When:
14 November 2023 @ 5:00 pm – 6:30 pm
2023-11-14T17:00:00+00:00
2023-11-14T18:30:00+00:00
Where:
Fyvie Hall, University of Westminster
309 Regent St.
London W1B 2HW
UK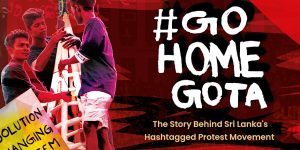 This documentary looks at Sri Lanka's 2022 Aragalaya protests from a protest movement building and mobilisation perspective and centers around interviews with several key core activists-belonging to different ethnic, linguistic, and professional backgrounds- who were part of the protest movement since its Galle Face occupation began.
The interviews were carried out in two rounds- During the Galle Face occupation and then in January 2023, several months after the occupation was called off in the face of increasingly brutal state repression. They share their specific movement organisation, building, and communication strategies, the evolution of the movement and the current status amidst a counter-revolutionary repression unleashed by the Ranil Wickremasinghe administration.
These leaders also discuss how they define and are working towards a "system change", which they envisioned achieving through the Aragalaya protest movement. It also contains interviews with Professor Nirmal Ranjith Dewasiri, a political scientist from the University of Colombo who frames through and places the Aragalaya movement along the continuum of post-independence political/protest movement building and mobilisation process in Sri Lanka, Dr.Sanjana Hattotuwa, who discusses the role played by social media during the Galle Face occupation, and Ambika Sathkunanadan, former commissioner of Sri Lanka Human Rights Commission, who provides a critical analysis of the Aragalaya protest movement for its lack of inclusivity across the country's ethnic divides and an evident failure to platform unaddressed larger issues pertinent to the country's thirty-year war.