Teach out: Culture, Labour, Struggle
When:
11th March 2020 @ 1:00 pm – 4:00 pm
2020-03-11T13:00:00+00:00
2020-03-11T16:00:00+00:00
Where:
University of Westminster (The Pavillion - room C1.18)
115 New Cavendish St
Fitzrovia, London W1W
UK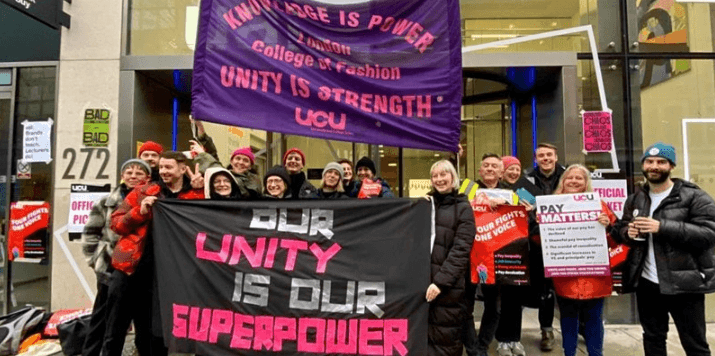 London College of Fashion/University of the Arts University and College Union with the Communication and Media Research Institute (CAMRI), University of Westminster.
74 UK universities are striking over falling pay, rising use of insecure contracts, intolerable workloads, and inequality by gender, race and disability. Art & design institutions have placed themselves at the heart of this, the biggest labour struggle in the UK right now, building the resistance against the newly emboldened nastier neoliberalism.
This teach out event unpacks the phenomenon from the perspective of art and design education and labour in the cultural industry.
Cultural and academic workers are co-exploited by precaritisation, marketisation, and the commodification of all of life. Creativity and dialogic exchange in work and education are strangled, co-opted, and branded for industrialised value extraction by the new behemoths of corporatized education and their retail and communications chums. Academic exchange is disciplined by the growing ranks of managers, marketers and communications teams shoving branded messages into curricula, worked out in cabals with industry employers to extract extra value from the brains of already indebted students through 'knowledge exchange' scams cooked up by universities terrified to out-compete each other in the dog-eat-dog world of enforced inter-university competition. Students are farmed out as free labour for internships, to learn docility, flexibility and the neoliberal brand of individualised creativity: not collective struggle for justice, equality and a better, more joyous world in which humans, in conjunction with other species, can develop themselves and each other to their fullest, least imagined potentials, but 'curiosity', 'openness' or whatever watchword their alma mater has branded them with, pre-sold to industry chums as a reserve army of precarious debt bondage.
We know another world is possible – that is the only valid credo of creativity. But not by business as usual: through solidarity, struggle and strike. That is the purpose of the teach-out: stop the education machine as the bosses' means to grind value and life out of students and academics. Collectivise through alternative channels to ask the real questions, open genuine dialogue, and start building the alternative.
Programme:
Dr Joanne Entwistle (King's College London) and Professor Agnès Rocamora (London College of Fashion) on fashion and labour;
Rupert Waldron on film, technology and the labour struggle.
Dr Tony Sullivan on fashion and politics.
More confirmations to follow, including: and XR speaker on fashion and sustainability – watch this space.
Booking closes 09 March