Non-Profit Issues Management: A new approach to resist the label of 'risk'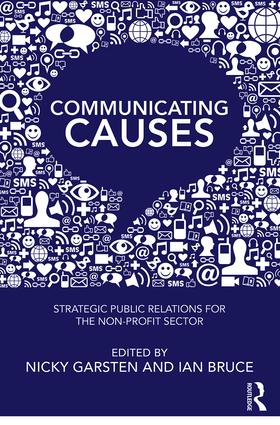 "Issues management models may omit non-profit organizations, or feature them primarily as creating risks or issues for 'legitimate' (business) organizations" writes Michaela O'Brien in her chapter in the newly released Communicating Causes: Strategic public relations for the non-profit sector, edited by Nicky Garsten, Ian Bruce. Michaela, who lectures on MA Media Campaigning and Social Change, examines in her chapter, on Non-Profit Issues Management, how mainstream issues management models lack usefulness for non-profit organizations in three ways. Firstly, by setting an oppositional dynamic between business and nonprofits that seeks to undermine non-profits. Secondly, by focusing on issues that pose risks for businesses, but are less of a concern for non-profitorganizations. Thirdly, through having an organizational rather than a societal focus. The chapter concludes by making a series of recommendations to counter these issues that are "quite distinct from those faced by their business counterparts, and include attempts by government and media to stifle their ability to campaign or comment on issues of social justice".
The book as a whole, looks at effective strategy and practice of PR in the modern non-profit. Including forewords by both John Grounds and Jon Snow, the expert perspectives offered in this book provide valuable support to current and future communicators. Starting with foundations that underpin communications for causes. These include arguments that support the importance of non-profits in civil society; lessons in corporate governance; and a new approach to issues management. PR planning subjects tailored, or specific, to the sector include: strategic global communications planning, agile digital communications; branding internal communications and the securing of meaningful outcomes. Corporate partnerships are examined with a new 'Fit to Partner Test' and consideration of the mandated corporate social responsibility (CSR) in India, corporate volunteering in Brazil, and CSR in South Africa. Relations between governments and non-profits are also considered, both generally and with a particular focus on China.
.