Hugh Grant to speak at launch of 8th Edition of Power Without Responsibility by Jean Seaton and James Curran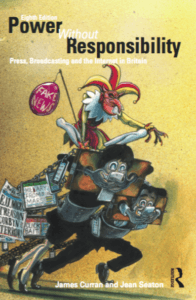 James Curran and Jean Seaton are launching the eight edition of their classic work: Power Without Responsibility: Broadcasting the Press and Internet in Britain, which has been continuously in print since 1981. This edition, to be launched on the 4th July, is the largest ever, with 6 new chapters, much new original research on the BBC throughout, new up-to date policy chapters and extensive new empirical and historical work on the recent development of the press. The book has become an iconic text translated all over the world, copied all over the world, with both a wide academic and public profile. It has also influenced policy and the new edition has new policy recommendations.
The event, and which Prof. Jean Seaton and Prof. James Curran will introduce the new volume, will also feature a speech by Hugh Grant  on press freedom and regulation. The event is to be attended by Baroness Helena Kennedy, Lord MacDonald, and the leaders of the most active media NGOs in the UK, Brian Cathcart from Hacked Off, Full Fact, Martin Moore from the Media Power Trust and others.
Following the event, the original cover cartoon by Martin Rowson will be auctioned by Rowson and Lord Carlton in aid of the Winter Shelter at St James's Piccadilly. Seaton has been working with homelss and refugee charities across London as part of the creation of the new immersive Down and Out in Paris and London, by Orwell.
Power Without Responsibility is a classic introduction to the history, sociology, theory and politics of the media in Britain.
It is an essential guide, both for students and teachers of media and communication studies, and for all those involved in the production and consumption of the media.
The new edition has been substantially revised to bring it right up-to-date with developments in the media industry, new media technologies and changes in the political and academic debates surrounding media policy. In this new edition, the authors consider:
* whether we are on the threshold of a new communications revolution
* the role of global media empires
* the rise of video, cable and satellite
* the global information society and contradictions in media policy
* the BBC and broadcasting at the end of the 1990s
* the evolving relationship of the press and the Conservative party.
Assessing the press and broadcasting at a time of radical change, the authors suggest a manifesto for media reform.