Tarik Sabry interviewed by The Arab Council for the Social Sciences about his new book
The Arab Council for the Social Sciences, the most prestigious social science research funding council in the Arab region, recently interviewed Tarik Sabry, along with co-editor Joe Khalil about their new book, Culture, Time and Publics in the Arab World: Media, Public Space and Temporality.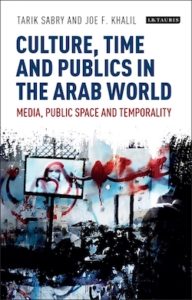 In the interview the pair dicuss the rationale for the book, as well as the scope, impact and contributions made by the book. In the interview Sabry states that "this book is not an isolated intellectual effort, but part of the much larger project of 'Critical Arab Cultural Studies', a project we have been working on as a group of scholars, and in different capacities, for a good decade now. There's an earlier collection I edited, Arab Cultural Studies: Mapping the Field (I.B. Tauris 2012), and another I coedited with Layal Ftouni called Arab Subcultures: Transformations in Theory and Practice (I.B. Tauris 2017). This book is a continuation of this project. I would say delineating 'the everyday' as an approach to understanding publicness and cultural temporality and doing this using a multi-disciplinary approach, makes for, I hope, a good contribution to the developing field of critical Arab cultural studies"
The full interview can be found on the website of the ACSS, and the book can be purchased from Amazon.