New Book: Radio Modernisms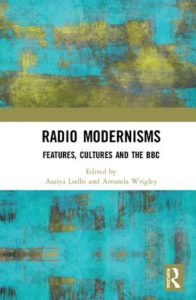 This new collection, edited by Aasiya Lodhi and Amanda Wrigley interrogates and stimulates deep, cross-disciplinary engagement with the various understandings and interplays of 'radio modernisms' from the early decades of the twentieth century through to the 1950s.
In the volume, academics from a range of different disciplines explore their common interests in the richness and heterogeneity of BBC Radio's imaginative programming – in terms of sound; as cultural events from specific moments in time; as team creations; as something experienced live in the domestic context; and as cultural works that, in many cases, attracted a certain canonical pedigree. Radio modernisms are, as these chapters demonstrate, a combination of the particular, the contingent, and the contextual. More than a decade after the publication of the first scholarly works to yoke together 'modernism' and 'radio', this collection emphasises the plurality of 'modernisms' as a defining aspect of contemporary BBC historiography. The authors bring multiple lenses to bear – including race, gender, and transnationalism – in order to (re)locate twentieth-century radio programming in broad, expansive contexts. They also underline the dynamic entanglements of radio – and radiogenic feature programmes, in particular – with other kinds of media and cultural forms and formats, reframing radio as a site of and vehicle for remediation and intermediality.
In examining the myriad ways in which radio gave shape to new modernities, and both evolved and constituted new forms of modernism, this collection offers fresh perspectives on the interconnected significance of 'radio modernisms' within the socio-cultural, literary, and political landscapes of twentieth-century Britain. This book was originally published as a special issue of Media History.
.