University of Westminster hosts the Charles Wheeler Award 2022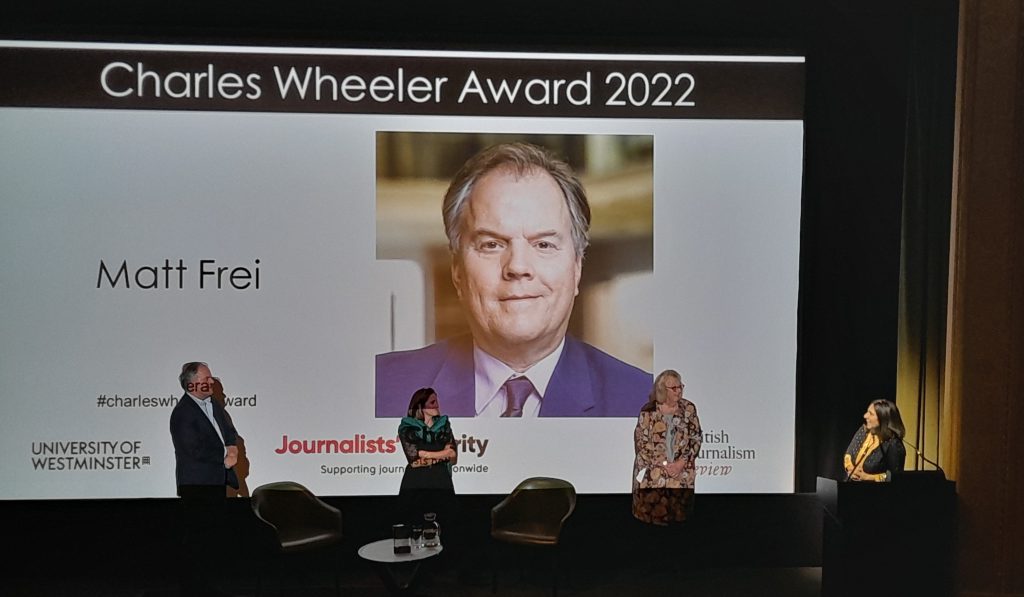 The University of Westminster hosted the 2022 British Journalism Review Charles Wheeler Award for Outstanding Contribution to Broadcast Journalism on Monday 10th October. This was the 13th such award in an annual series which began in 2009 as a tribute to the celebrated BBC journalist, and which is now recognised as one of the most prestigious journalism awards of the year. It was fitting that the award should take place in the BBC's centenary week.
This year's winner was Matt Frei, Channel 4 Presenter and Europe Editor. Frei has worked in journalism since 1989 when he reported for the BBC on the First Intifada in Jerusalem, before moving to Bonn as the Berlin wall fell. Throughout his time at the BBC Frei reported from Hong Kong, the United States, and also hosted the News at Six and Newsnight. Moving to Channel 4 in 2011, he became a regular fixture in reporting the US presidential elections and other political stories from across the pond. Frei adds the Charles Wheeler Award to a host of other recognitions, including an International Emmy for News, Royal Television Society Journalist of the Year (2015 and 2017), and an Amnesty International Asia Award.
Following the presentation of Frei's award, author journalist and Co-Founder of the Women's Equality Party, Catherine Mayer delivered the annual BJR Charles Wheeler Lecture. Mayer's lecture took in a wide range of topics related to equality and equity in journalism. She examined the role of impartiality, gender inequality, and the framing (or its absence) of Queen Elizabeth II's funeral against the backdrop the COVID-19 pandemic. The evening finished with a Q&A hosted by Prof. Steven Barnett, and a celebratory drinks reception in the University's historic Fyvie Hall.
The event was supported by The Journalists' Charity. The Journalism Charity has supported thousands of journalists since it was set up by Charles Dickens over 150 years ago as well as championing the best of journalism.
Photo: Doug Specht | CAMRI