University of Westminster joins Turing University Network to further boost AI and Data Science research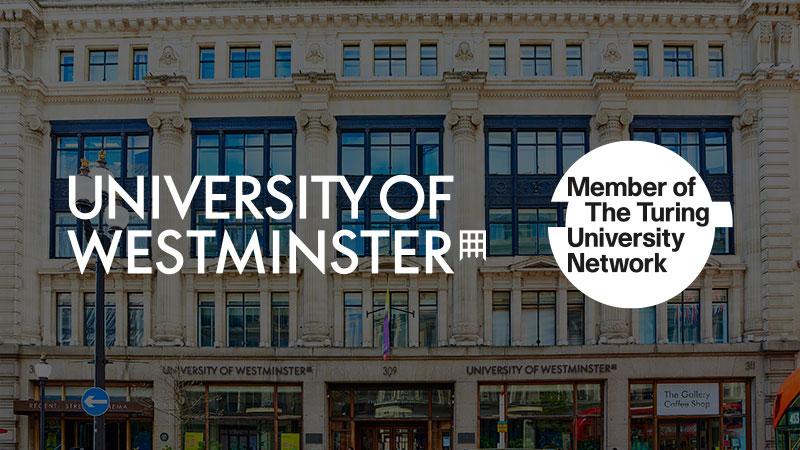 Westminster has become one of 65 members of the Turing University Network, the UK's national institute for Data Science and Artificial Intelligence (AI). 
To secure the spot, Dr Alexander Bolotov, Reader at the School of Computer Science and Engineering,  and Westminster's academic Turing liaison, led a multi-disciplinary team to create an application showcasing the University's research around Data Science and AI. The team included Dr Tamas Kiss, Professor of Distributed Computing in the School of Computer Science and Engineering, Dr Pieter Verdegem, Reader in the School of Media and Communications and Course Leader of the Data, Culture and Society MA course, and Dr Luis Delgado, Principal Research Fellow in the School of Architecture and Cities.
The success of the application shows the Turing Institute's recognition of the research taking place at Westminster. The University joined the Turing University Network with a repository of diverse research topics from more than 50 colleagues from all colleges and almost all schools across the University. These include theory research, mostly carried out within the School of Computer Science and Engineering, in areas such as deep learning in imaging, data and process mining, decision support systems, state of the art knowledge representation and distributed computing infrastructures for AI-based applications.
At the same time, practice-oriented research, mainly carried out within other Westminster schools, concentrates on applications of theory research to specific areas. These include applications of machine or deep learning in automotive imaging technology and computational aesthetics, applications of data and process mining to health care processes and applications of distributed computing in manufacturing, healthcare, smart cities and science. Other research streams tackle state-of-the-art problems of agent-based modelling and behavioural economics, architectural solutions with embedded AI to support distributed applications, analysis and modelling of airline processes and air transport, AI and vehicular AI generated images, and AI and deepfakes.
One of the specific strengths of Westminster's AI related research is linked to studies of equality, diversity and Inclusion (EDI), looking at AI for social good, decolonising AI and conversational AI. Generative AI, an emerging area of AI, is also taking shape at Westminster, with colleagues looking at efficient ways of embedding the state-of-the-art Generative AI into teaching.
The Turing University Network will provide an opportunity for Westminster to collaborate, coordinate funding proposals and work together to carry out cutting-edge research that will help solve real world problems, drive economic progress and bring a new generation of scientists in to the field of AI and Data Science.
Furthermore, it will boost funding applications and offer a variety of Turing Institute events and activities for researchers to get involved in, such as Turing's Data Study Groups. It will also open new international networking opportunities for researchers through partnerships between the Turing Institute and international institutions. Examples include collaboration with Australia's national science agency in education and research in machine learning and AI; Norwegian Artificial Intelligence Research Consortium on hot topics in AI; researchers and student exchanges; and Turing's five-year strategic partnership with the global healthcare company Roche to build new connections across academia and industry.
Westminster will be an active member of the Network, aiming to form new partnerships and help expand its social impact. The University is set to host Westminster's Diversity Festival, offering AI and Data Science related events, such as AI for the social good, how to increase ethnic and gender diversity in AI development and use, AI ethics, policies, opportunities and obstacles for inclusion. Westminster also has offered to host a multi-disciplinary workshop on how AI developments can effectively address and reduce social inequalities in areas such as health, education and income, as well as a workshop on Automated Reasoning for AI.
Finally, the Turing University Network members will be offered an opportunity to contribute to a special issue on AI and Data in the annual edition of the collection of works published by Westminster Diversity and Inclusion community, on aspects of EDI.
Dr Alexander Bolotov, said: "I felt huge responsibility when leading this bid, understanding how important it was not only to address the required compulsory items of the application but to also build a significant and convincing showcase of Westminster's  AI and Data research. There was no other way to achieve this but to explore the strength of the application team and, specifically, the experience of Tamas Kiss, whose contribution was great but succinctly expressed in his short and sharp feedback.
"Of course, I am very pleased with the positive outcome of the application but, as the Turing Academic liaison, I am also committed to keeping up momentum in this area. Ensuring a high level of our engagement with the Turing University Network, I have plans to make the collated showcase of Westminster's AI and Data research accessible both internally and externally, to promote and help establish new internal and external collaboration, in particular, for forming funding bids."
Find out more about Westminster's Computer Science and Engineering courses.