Book launch: AI for Everyone? Critical Perspectives
When:
16 December 2021 @ 5:00 pm – 7:00 pm
2021-12-16T17:00:00+00:00
2021-12-16T19:00:00+00:00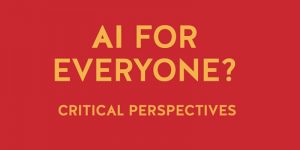 We are entering a new era of technological determinism and solutionism in which governments and business actors are seeking data-driven change, assuming that Artificial Intelligence (AI) is now inevitable and ubiquitous. But we have not even started asking the right questions, let alone developed an understanding of the consequences. Urgently needed is debate that asks and answers fundamental questions about power. This book brings together critical interrogations of what constitutes AI, its impact and its inequalities in order to offer an analysis of what it means for AI to deliver benefits for everyone.
To celebrate the publication of AI for Everyone? Critical Perspectives, join its editor Pieter Verdegem and a panel of its contributors to discuss some of the key contemporary themes in this exciting area. Panelists will include Willian Araújo, Angela Daly, Lina Dencik, Rafael Grohmann, Dan McQuillan, Jenna Ng, Carrie O'Connell, Rainer Rehak, James Steinhoff, with more speakers to be confirmed.
AI for Everyone? Critical Perspectives is published open access by the University of Westminster Press.
Biography
Pieter Verdegem is Senior Lecturer in Media Theory in the Westminster School of Media and Communication and a member of the Communication and Media Research Institute (CAMRI), University of Westminster.
His research investigates the political economy of digital media and the impact of digital technologies on society. He is editor of AI for Everyone? Critical Perspectives, published in 2021 by University of Westminster Press. He is a Senior Fellow of the Higher Education Academy.