Can Sky News Survive in the Long Term?
When:
20th February 2018 @ 6:30 pm – 9:30 pm
2018-02-20T18:30:00+00:00
2018-02-20T21:30:00+00:00
Where:
The Boardroom
309 Regent St
Marylebone, London W1B 2HT
UK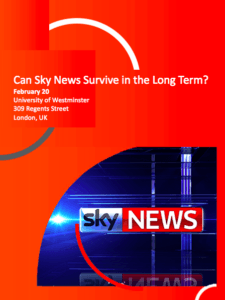 This event is free for University of Westminster staff and students.
When 21st Century Fox made its bid for 100% of Sky, very few anticipated what would happen next: not just a referral by the Secretary of State to Ofcom and then the Competition and Market Authority, but a subsequent agreement by the Murdochs to sell the entertainment side of Fox (including Sky) to Disney. As the CMA comes to its final conclusion about whether the Fox takeover of Sky would threaten plurality in the UK, the spotlight has focused on Sky News. Would a full Murdoch takeover threaten the news channel's jealously guarded reputation for impartiality? What would be the implications of a Disney-owned Sky News?
This event will look at the future of Sky News and explore the impact of these changes by asking the following questions:
Will Sky News be an unintended casualty of the Murdoch/Fox bid for the rest of Sky they do not own?
Is a 'spun-off' Sky News sustainable?
Would Disney, who are trying to buy Sky from Fox, fund a loss-making channel?
Under Fox or Disney does Sky News have a long-term future?
The following experts will provide their insights about the future of Sky News:
Stewart Purvis CBE, Former Chief Executive and Editor-in-Chief of ITN and OfCom Partner (Chair)
Professor Steven Barnett, University of Westminster
David Elstein, Head of Programming at Sky 1993-1996
Alice Enders, Enders Analysis
John O'Loan, Launch Editor of Sky News, 1989
Joe Mayes, Bloomberg News
Tickets need to be booked in advance on the event page. The event is organized by The Media Society in association with the CAMRI Policy Observatory at the University of Westminster.
About the CAMRI Policy Observatory:
The CAMRI Policy Observatory at the University of Westminster draws on cutting edge research that investigates the role of media, culture and communication(s) in society to contribute to policy debates and developments nationally and globally. By engaging in outreach, networking and publication activities, the Observatory aims to make research from accessible to the wider public in order to promote participation and facilitate informed debate with the potential to advance progressive social change, equality, freedom, justice, and democracy.