Digital Divide and Digital Inclusion
When:
19 March 2021 @ 1:00 pm
2021-03-19T13:00:00+00:00
2021-03-19T13:15:00+00:00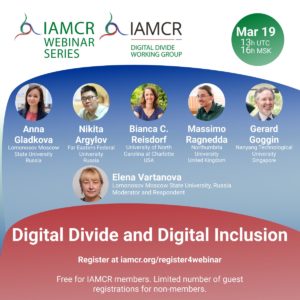 IAMCR is pleased to launch a new initiative: the IAMCR Webinar Series. Led by the association's vice president Andrea Medrado, the idea is to open-up channels for engagement and participation in addition to the annual conference. These include presentations, debates, book and project launches. The format is flexible, the connection is what matters. The series starts with a very timely debate on "Digital Divide and Digital Inclusion", sponsored by the Digital Divide Working Group. 
Date & time: 19 March 2021 – 16h00 Moscow / 13h00 UTC / 09h00 New York / 14h00 Germany/ 16h00 Nairobi / 18h30 Kolkata / 19h00 Beijing / 21h00 Brisbane /
Moderated by: Prof Elena Vartanova (Lomonosov Moscow State University, Russia)
Speakers: Anna Gladkova, Lomonosov Moscow State University, Russia; Nikita Argylov, Far Eastern Federal University, Russia; Massimo Ragnedda, Northumbria University, UK;  Bianca C. Reisdorf, University of North Carolina at Charlotte, USA; Gerard Goggin, Nanyang Technological University, Singapore
Description: This webinar will discuss digital divide and digital inclusion of various social groups. Presentations will cover recent research on digital inclusion of disabled people, incarcerated and formerly incarcerated individuals, minor ethnic and cultural groups. The speakers will also discuss the evolution of digital inequalities from digital divide to algorithms divide, and talk about current approaches to the digital divide as a technological and social problem.
Location: The meeting will take place on Zoom. Attendees will receive their personal invitation 24 hours before the webinar begins.
Registration: There is no charge for IAMCR members but pre-registration is required by 17 March @ 13h00 UTC. To register, complete the form below. You must log in to your account  in order to see and complete the form.
A limited number of guest invitations for non-members may be available. Send an email to register4iamcrwebinar@gmail.com to request to be added to the guest list.
The deadline to register is 17 March @ 17h00 UTC