SAJP Symposium – 'New Threats to Media Freedom: The View From South Asia'
When:
15th May 2019 @ 12:15 pm – 7:30 pm
2019-05-15T12:15:00+01:00
2019-05-15T19:30:00+01:00
Where:
Institute for Government
2 Carlton Gardens
St. James's, London SW1Y 5AA
UK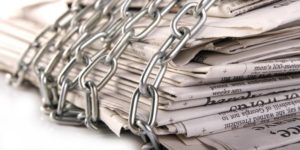 (NOTE: The venue requires all attendees to bring photo IDs with them which will be checked by a security guard on arrival. Random bag searches may also be carried out)
South Asian journalism faces escalating new threats while older threats take on alarming proportions. Against the background of the recent Kashmir crisis and the bombings in Sri Lanka, this symposium explores how reporting in India and Pakistan, Sri Lanka and Bangladesh can survive. Virulent nationalism, social media, potential foreign interference, and direct threats of violence to journalists mean that the space for trusted journalism and challenging inquiry is shrinking. While the 2019 World Press Freedom Index categorised three-quarters of the 180 nations as 'problematic', the situation in South Asia is particularly grim, with Afghanistan (ranked:121), Sri Lanka (126), India (140), Pakistan (142), and Bangladesh (150) all languishing at the bottom of the list.
What does this mean for the freedom of a vibrant media in the subcontinent? What can be done?
PROGRAMME
12.00: Arrivals, registration
12.25: Welcome
SAJP 2019 Programme Directors: Professors Jean Seaton and Rosie Thomas
12.30: PANEL ONE
Kashmir, February 2019: Did South Asian Newsrooms Bring Us to the Brink of War?
On 26 February 2019, India bombed Pakistani territory in response to an attack on more than 40 soldiers in Kashmir 12 days before. Pakistan responded with counter attacks and captured an Indian pilot. While the conflict was ongoing, the fear of an impending war between these two nuclear-armed states hung in the air. There was a dearth of credible information for the media to report and speculation was rife over sensitive data such as the numbers of people killed, planes shot down, and pilots captured. Following a detailed timeline of these events, this panel will explore the problems faced by the media in attempting to put out the facts in such a challenging situation. Did the media on both sides of the border act in an irresponsible fashion in reporting the incidents? Did their TV newsrooms act like war rooms?
Speakers
Sonia Bhaskar, Head, TV-Web Synergy, NDTV, New Delhi; Chevening SAJP Fellow 2019, representing the Indian Fellows
Mehvish Hussain, Urdu Editor, BBC World Services, London
Saqib Tanveer, Digital Producer, The Independent, Urdu, Islamabad; Chevening SAJP Fellow 2019, representing the Pakistani Fellows
Chair
David Loyn, Senior Visiting Fellow, King's College London; former BBC Foreign Correspondent in South Asia
14.30: PANEL TWO
Journalists in Danger
The killing of Washington Post columnist Jamal Khashoggi last year and Lyra McKee in Derry last month reminded the world of the impunity with which journalists are targeted. Violence against journalists remains one of the major threats to freedom of speech, forcing the voices of dissent and those who question to self-censor. According to the Global Impunity Index 2018 published by the Committee to Protect Journalists, a journalist was killed every week last year: 54 journalists died and another 251 were imprisoned, with perpetrators rarely held to account. The 15 nations with the highest ratios of unsolved murders of journalists include Pakistan, India, Bangladesh and Afghanistan. Moreover, the exponential growth of digital media has left journalists further vulnerable to violence and abuse. With evolving technology and increased public exposure how can journalists gauge the threats against them? What can the news organisations do to safeguard their staff, including freelance contributors, from physical, psychological and online violence? And what do we do when the state poses the threat?
Speakers
Iain Haddow, Senior News Editor, Asia Region, BBC World Services
Justin Rowlatt, South Asia Correspondent, BBC
Salil Tripathi, Writer and Journalist; Director of Policy, Institute for Human Rights and Business; Chair of PEN International's Writers in Prison Committee
Elisabeth Witchel, Consultant, Campaign Against Impunity, Committee to Protect Journalists
Chair
Ruby Dhingra, Anchor & Supervising Producer, NDTV, New Delhi; Chevening SAJP Fellow 2019
16.00: PANEL THREE
Nationalism's War On Journalism
A rising tide of nationalism around the world is proving a challenge to balanced journalism. In a growing number of countries, any deviation from the official line of the regime in power is prone to being labelled "anti-national". Many journalists and media organisations, particularly in South Asia, find it increasingly convenient and profitable to wrap themselves in their national flags. The situation is exacerbated in times of conflict, such as the recent one between India and Pakistan. Is this inevitable in the current global political climate? What should media organisations and individual journalists do? Does the rise of right-wing broadcast and digital media fuel 'nationalist' fervour? Does nationalism leave room for unbiased journalism? How can conflicts be reported with journalistic rigour in such times?
Speakers
Samrat Choudhury, Shillong-based Independent Journalist and Author; Chevening SAJP Fellow 2019
David Loyn, Author and former BBC Foreign Correspondent in South Asia; Senior Visiting Fellow, King's College London
Ayesha Siddiqa, Author and Pakistani military scientist; Research Associate, SOAS South Asia Institute
Rauf Yusufzai, Peshawar-based Freelance Journalist, writing for Arab News, Newsline, The Friday Times; Chevening SAJP Fellow 2019
Chair
Dibyesh Anand, Professor of International Relations and Head of School of Social Sciences, University of Westminster
17.15: TEAS, COFFEES, DRINKS
17.45: PANEL FOUR
Social Media: Journalists' New 'Frenemy'?
South Asia is one of the largest markets for platforms such as WhatsApp, Facebook and their ilk. On one hand, these platforms afford new opportunities, allowing small businesses and local newspapers to gain wider reach and guaranteeing a space for freedom of expression. On the other hand, social media pose dangerous new challenges, from influencing elections to spreading fake news. In South Asia the misuse of social media has reached a new low, with organized political trolling, whipped-up mass hysteria, hate speech, and technology-based violence against women and the LGBTIQ communities. Following the recent Sri Lankan bomb attacks, the State blocked Facebook, Instagram, WhatsApp and Viber, hampering the work of media organisations and civil society in a bid to stop the spread of hate speech and misinformation, largely unsuccessfully. How can media organisations adapt to this new flow of information and disinformation, while at the same time protecting the interests of their journalists to report without fear?
Speakers
Zahera Harb, Journalist and Senior Lecturer, City University of London; Board member/trustee of the Ethical Journalism Network
Tom Phillips, Editor, Full Fact
Padraic Ryan, Journalist and Head of News Intelligence, Storyful, Dublin
Raisa Wickrematunge, Editor, Groundviews, Centre for Policy Alternatives, Colombo. Chevening SAJP Fellow 2019
Chair
Jean Seaton, Professor of Media History, University of Westminster
19.00: Closing Remarks
Uttaran Das Gupta, Deputy News Editor, Business Standard, New Delhi. Chevening SAJP Fellow 2019