Congratulations to our newest CAMRI PhD graduate: Robert Boughen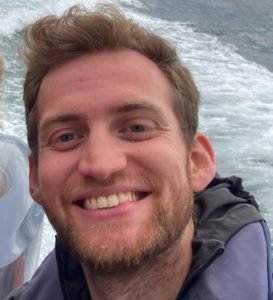 Many congratulations to Dr Robert Boughen on passing his PhD VIVA on Tuesday 28th May for his Techne AHRC-funded research on Sino-African journalism and journalistic fields: CGTN Africa's workers between worlds.
Following the VIVA, Robert stated: "Completing a PhD is a long road, and often a rocky one, particularly during COVID – but I'm so happy to have weathered its storms with great support from the staff at Westminster, and particularly my supervisor, Xin Xin."
Dr Xin Xin commended Robert's "innovative research on African journalists working for Chinese media organizations like CGTN, which has made an original contribution to De-westernized journalism studies. His ability to adapt and conduct rigorous research remotely demonstrates resilience and resourcefulness."
External examiner Dr Kate Wright (University of Edinburgh) praised Robert for 'an engagingly written thesis, which makes valuable contributions to research about CGTN in Africa […]. The idea of journalists' negotiation of intersecting global, national and urban fields was appropriate, innovative and ambitious, and many of the critical arguments the candidate advanced about their empirical data were convincing and made insightful and original contributions to debate in this area."
Internal examiner Prof Steven Barnett commented in his report: "This is a well-structured, well theorised and well researched thesis on Sino-African journalism incorporating data from semi structured interviews with practitioners based in Nairobi. […] It represents a significant contribution to knowledge within the field of journalism studies, and in particular to scholarship that examines the evolution of journalistic norms and practices in non-Western and developing country environments."
We wish Robert continued success in his future endeavours!