Power Without Responsibility: Comparative national overviews
When:
27 January 2022 @ 12:30 pm – 2:00 pm
2022-01-27T12:30:00+00:00
2022-01-27T14:00:00+00:00
Contact:
Goldsmiths Leverhulme Media Research Centre Projects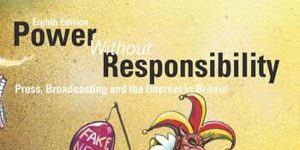 The first in a series of workshops centred on the legacy of James Curran and Jean Seaton's Power without Responsibility
The Goldsmiths Leverhulme Media Research Centre is organising a monthly series of workshops celebrating 40 years since the publication of the seminar book on the UK media, James Curran and Jean Seaton's Power Without Responsibility. Now in its eighth edition, the book has been translated into five languages and has influenced generations of media academics, students and wider readers. With a scope ranging from the 1830s to the present day, the book focuses on how market distortion and state sponsored public service, among other influences, have shaped the UK media and influenced the conduct of politics, entertainment and society more generally. The workshops will examine central themes of the book – including discussions about market corruption, media reform, public service and radical journalism – with presentations by international scholars and journalists. The workshops will take place online from January to May 2022 and will be open to academics, teachers, students, historians, media activists and anyone interested in the history and the future of the UK media.
This first workshop in the series will reflect on themes developed in the book from the perspective of different national contexts. It will explore the contribution of Power without Responsibility in our understanding of media in a variety of political and cultural settings.
Workshop one: Comparative national overviews
CHAIR: Toby Miller (Prof, Universidad Autónoma Metropolitana, Cuajimalpa, Mexico)
Speakers:
Natalie Foster (Routledge)
John Durham Peters (Prof; Yale)
Vibodh Parthasarathi (Associate Prof, Jamia Millia Islamia)
Kaori Hayashi (Prof, Tokyo)
Tom O'Malley (Emeritus Prof, Aberystwyth, ICA support letter)
This event will take place on Zoom