Doug Specht presents on environmental recovery after colonialism at the Human Rights Center Antonio Papisca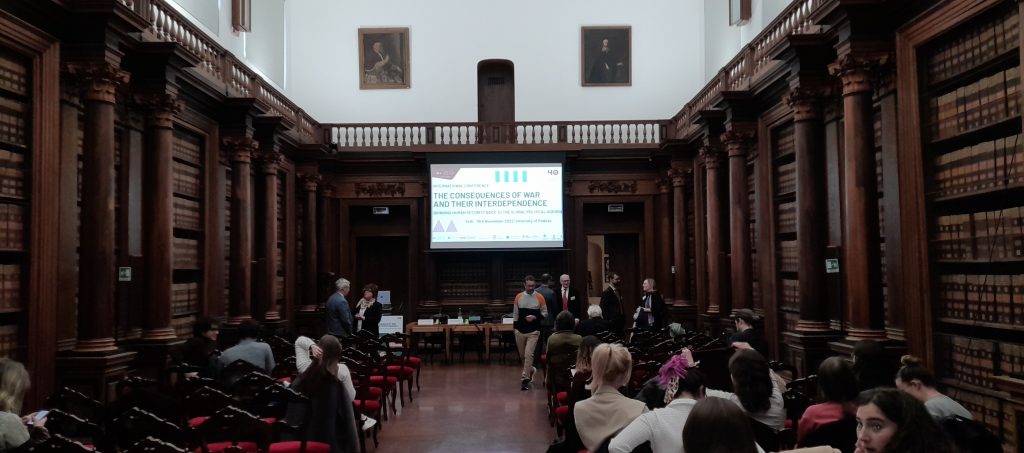 Dr. Doug Specht has presented work on environmental recovery after colonialism as part of the commemorative events celebrating the 40th anniversary of the Human Rights Centre of the University of Padova. Taking part in an event entitled The Consequences of War and their Interdependence. Bringing Human Security Back to the Global Political Agenda, hosted at the University of Padova, Specht provided an historical analysis of British Colonialism and its links to current climate change and ongoing war.
In his talk Specht noted how the colonial project of the British Empire was fuelled by the commodification of the planet and people. This commodification, he said, has created a planet that is seen no longer a sacred, but one that is to be used up for the advancement of the human endeavour, whatever the harms might be. The positioning of the Crown and capitalism as being bigger than the earths natural environment allows for this continued exploitation, which sees the global south increasingly being used as a commodity to fuel the green-washed wealth of the north. His talk concluded that without the removal of Kings there can be no altering our abusive relationship with the planet, regardless of the new Monarch's words.
The event also included talks from  Kairat Abdrakhmanov, OSCE High Commissioner on National Minorities; Wolfgang Benedek, University of Graz;  Jean Fabre, United Nations Task Force on Social and Solidarity Economy; Ian Fry, UN Special Rapporteur on the promotion and protection of human rights in the context of climate change; Christina Kokkinakis, European External Action Service; Jihad Nammour, Saint Joseph University of Beirut, Lena Simet, Human Rights Watch; Karen E. Smith, London School of Economics and Political Science.