Culture, Time and Publics in the Arab World: Media, Public Space and Temporality
When:
7 January 2020 @ 5:30 pm – 7:00 pm
2020-01-07T17:30:00+00:00
2020-01-07T19:00:00+00:00
Where:
SOAS, Russell Square: College Buildings (Khalili Lecture Theatre)
School Of Oriental & African Studies
10 Thornhaugh St, Bloomsbury, London WC1H 0XG
UK

Contact:
SOAS Middle East Institute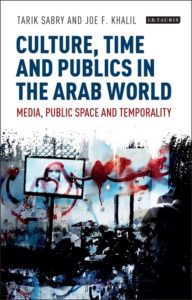 Panel Discussion with Tarik Sabry, Omar al-Ghazzi, Helga Tawil-Souri and Ramy Aly
In this revealing new study, the authors preside over an original new exploration of Arab culture. They employ subjects as varied as anthropology, media studies, philosophy, political economy and cultural studies to illuminate the relationship between culture, time and publics in an Arab context, whilst also laying the foundations for a much more nuanced picture of Arab society. The diverse themes and locations explored include communities at borders, in rural and urban locations, Syrian drama audiences, Egyptian, Saudi and Tunisian artists and activists and historical and contemporary Arab intellectuals. This fresh empirical research and interdisciplinary analysis illuminate intricate experiences that transcend local, national and religious boundaries and expose how Arab publics combine the media and technology to create a rich experience that shapes their collective imagination and social structure. Providing a grounded orientation to key debates on time and what can be defined as public in modern Arab cultures, the authors address teachers, students and those concerned about the delicate structures that underpin the upheavals of the modern Arab world.
Registration
This event is open to the public and free to attend, however registration is required. Online Registration
Chair: Dina Matar (SOAS)
Organiser: SOAS Middle East Institute
Contact email: lmei@soas.ac.uk