Ethics for Digital Media Research
When:
3 September 2020 @ 10:00 am – 3:00 pm
2020-09-03T10:00:00+01:00
2020-09-03T15:00:00+01:00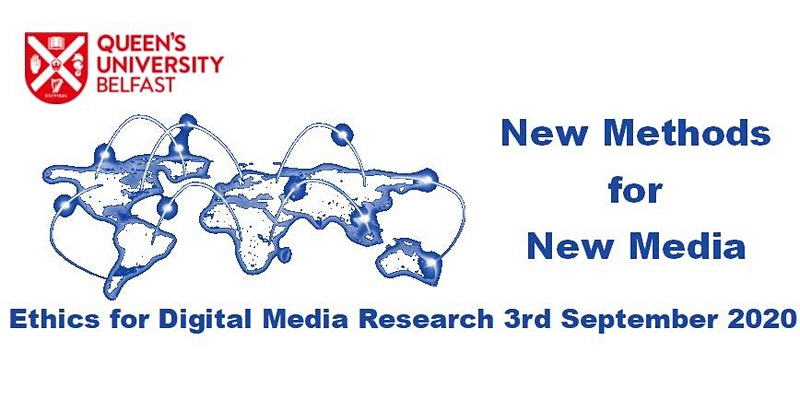 We are delighted to announce that the next meeting of the New Methods for New Media Network will be a workshop on the Ethics of Digital Media Research.
When: Thursday 3rd September 2020
Where: The workshop will be a virtual event held through the Teams website. A participation link will be emailed to all who register 30 minutes prior to the start time.
Who can attend: Everyone welcome, whether already a member of the NMNM network or not
The use of data from digital media in academic research throws up a large number of ethical questions, including:
– How do we define 'participant' in the context of online research?
– To what extent can 'offline' research ethics principles be applied to online research and how can divergences be addressed?
– What is public / private in these contexts?
– What is the relationship between legal and ethical considerations?
– How do differences in platforms affect ethical considerations?
In this workshop, we will explore these questions and more with a keynote from Dr Natasha Whiteman (University of Westminster), a leading researcher in digital media ethics who has published widely in this area.
The event then explores how principles can be practically applied to real life case studies, selected from our participants in advance. If you have a project involving digital media and complex ethical considerations, please submit it for consideration to: newmethodsnewmedia@gmail.com.
Break-out sessions will examine the case studies, discuss possible approaches using, for example, the AoIR ethics advice and draw out guidelines for future practice.
With group discussions and a closing roundtable, the event is an opportunity for networking and interdisciplinary interaction on ethics.
Attendance at this event is free, but we ask you to register for administration purposes.
Please contact newmethodsnewmedia@gmail.com with any questions.
Dr Anna Tristram, Dr Jane Lugea and Angela Rogan
New Methods of New Media Network
Queen's University Belfast