The Politics of Location: Mobilities, Data and Machine Learning
When:
8 April 2021 @ 5:00 pm – 7:00 pm
2021-04-08T17:00:00+01:00
2021-04-08T19:00:00+01:00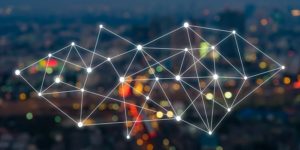 Didem Özkul (Karlstad University) – The Politics of Location: Mobilities, Data and Machine Learning
Our lives are populated with connected devices which sense and record where we are at any given point in time, how we move between places, who we are travelling or meeting with and, most importantly, why. From drones and commercial satellites to real-time identification of citizens using facial recognition technologies, technologies of future media and communications are extensively making use of location data. Location data has geospatial references, providing information on where and when people and things are located. The current global, political and economic crises have allowed the processing of location data to grow exponentially, most prevalent in the examples of border security and predictive policing.
In this talk, Didem Özkul draws on the problematic entanglement of machine learning, algorithmic decision-making and politics of mobilities with a specific focus on location data. She discusses what kinds of inferences are drawn from location data and how, what kinds of decisions are made based on those inferences, and how such decisions govern physical and social mobilities through examples from a fieldwork she has conducted with computer scientists and locative media users, patents and case studies. In doing so, she discusses the societal implications of location data and machine learning, which she frames as 'the politics of location'.
Biography
Didem Özkul is Senior Lecturer in Media and Communication Studies at the Department of Geography, Media and Communication (Geomedia) at Karlstad University, Sweden and an Honorary Associate Professor at the Department of Culture, Communication and Media at University College London. She has written extensively about mobile media and location data practices. Currently she is writing her first monograph, The Politics of Location Tracking and Profiling, which presents a critical analysis of location data, machine learning, and politics of mobilities (under contract with Routledge).